POT07 Series Holding Magnets and Pot Magnets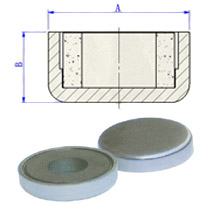 | | |
| --- | --- |
| Product ID: | POT07 |
| Material: | Various |
| Shape: | Customrized |
| Dimension: | Customrized |
POT07 Series holding magnets and pot magnets are special magnets composed of permanent magnets (neodymium, Ferrite, Alnico, or SmCo) and metal pots. The metal pot changes the magnetic field direction and makes the magnetic force much stronger than single rare earth magnet. Holding and pot magnets can be customized and are widely used in many industries.
Item#

POT

Gap filler

Finish

Pull Force  (lb)

Material of Cover

A

B

POTN07-19

Fe37

19

9.5

None

Zn

12
Related Applications
Related Products
Send us an inquiry now to find out more information and the latest prices, thanks!